Thank you for considering Lisa's Tea Treasures for your party.
We will do our best to make it a memorable experience and hope you will find the following information helpful.
Private Rooms
We have three rooms that accommodate up to 15, 17 or 35 guests. The minimum head counts for the 3 private rooms are 10, 12 and 18 people. Our rooms are decorated in victorian style with elegant white clothed tables set with fine bone china, silver flatware, pretty center pieces and fresh roses.
Additional decorations are not necessary, but you are welcome to bring flowers, balloons or party favors if you wish – please no confetti. If you require a gift table we will be happy to provide one if space allows.
Timing
We allow two hours for your party in a private room at no charge. If you wish additional time, please tell us upon booking and we will quote for various time options.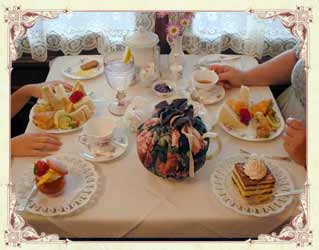 Menu selection
For group events our minimum charge is $26.95 per adult and $18.95 per child.
Selecting your menu ahead of time allows you to focus completely on your guests and to enjoy the festivities.
It also goes a long way toward helping our staff better serve you. We ask that you select one tea plate from our menu, one per guest, and three different teas for the group. You may call or come into our store and we will be happy to help you pre-selecting the menu. If you have any specific requests please let us know.
We do not have a liquor license but we would be happy to serve champagne or wine that you provide for a charge of $15.00 per bottle. We provide the stemware.
If you wish to bring a cake there is a $2 per person cake-cutting/serving fee.
Reservation and confirmation
To finalize and hold your reservation we kindly ask for your credit card number.
Please call to confirm your final headcount, choice of tea service and three teas as soon as possible but latest three days before your event. The last number of confirmed guests, at least 48 hours before your party, will be used to determine your cost. Should you have a last minute "no show" we will pack their food to take home.


Cancellations
There will be a cancellation fee of $225 for the 2 smaller rooms, and $325 for the bigger room for cancellations within 14 days of scheduled time.